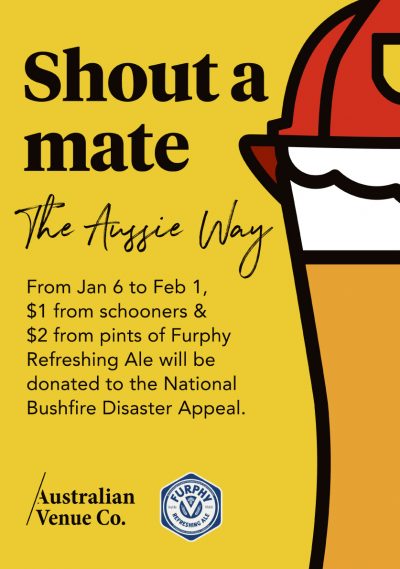 Shout a Mate Bushfire Appeal
January
In the wake of the catastrophic bushfires that have & continue to rage across the country. Our 'Shout a Mate' campaign will aim to raise funds that will help those Australians affected.
Head into The Rook from January 6th until the 1st of February 2020, purchase a Furphy Refreshing Ale and we will donate $1 for every schooner and $2 for every pint to the National Bushfire Disaster Appeal.
The money raised will help them continue the work they're doing in the communities affected by the fires.
Come down & show your support, it's the Aussie way.
Available across all AVC venues, click here to find out more!
Book a table
Credit card details are required to secure all reservations dining on a set menu. No deposit is processed on your credit card. Should you need to cancel your booking or decrease your group numbers, we request 48 hours notice to avoid a cancellation fee of 50% of the set menu price per person.